"Don't be satisfied with stories, how things have gone with others. Unfold your own myth."
―
Rumi
,
The Essential Rumi
CAN'T DISTRACT - AMYOES.COM
I love creating inchie art, and in dire medical circumstances, this was the best way to express my uneasiness in the midst of uncertainty.Each individual inchie expressed a fear, worry or concern I had about my future. I called this "Can't Distract" because I was unable to take my thoughts away from this anxiety. Rather than deny these thoughts, I made art from them. Suddenly, they became less scary.
the endless wonder of inchies...
You can learn how to
make your own inchies here.
Inchies can be sad, joyful, funny, random, and most importantly, little thumbnail sketches of you life. Go ahead, make some, and let me know what you come up with!
If you follow my board
Show Me Your heART on Pinterest
, I'll invite you to post your creations there!
These are my own mixed media inchie pins - I love inchie art - I find that it is a very fun way to make little thumbnail collages - a moment in time, portrayed visually. I've done a lot fun work with inchies - you can see a few of my bigger pieces in my
Inchies Gallery.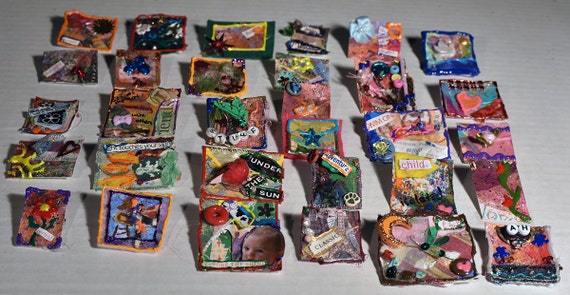 Now my inchies celebrate the joy in my life. You can also have them yourself on my
Etsy shop
.