Tales of a Theatre Geek...
Here's something I bet you didn't know about me...
(or maybe you did.)
Polarities - by me, mixed media
This was a piece of art I made for myself to show the polarities I felt between my "sick self" and my "theatre loving old self". When I awoke from my coma, I was still singing musical theatre songs in my head, yet was faced with a new tune of beeping machines and loud ventilators. The disparity was difficult for me to process.
I created a lot of art to express the two halves of me I was experiencing after my coma.
Eventually, I was able to combine these two parts of me into a one woman show which expressed my honest journey from a coma, to the imperfect-but-fulfilled state I'm in now. I was especially excited to write for Ms. Millennia Magazine about the makings of my autobiographical one woman show
Gutless & Grateful.
I've talked about it before, but never really elaborated on how this was a baby-dream of mine in my old hospital days - back when doctors didn't even know if I'd be able to walk or talk again.
Read the full article here:
http://missmillmag.com/millennial-mindset/forever-gutless-forever-grateful/
I grew up doing musical theatre.
Let me rephrase that. I grew up thinking my life was a musical. Call it the "theatre bug", call me a "drama queen" or a great big ham – I lived for the world of the stage. For me, singing and acting were ways I could connect with the world around me. When I took a deep, grounded breath from my gut, I sang what my heart longed to express. I found comfort in the words of my favorite composers. I read scripts like they were novels. I would play with my playbills from various shows I had seen like they were my Barbie dolls. Through theatre, I had a place in this world. I could make believe by inserting myself into characters from every era, situation and mindset, while still expressing my own individuality.
I was the kid who got sent to the principal's office because when the teacher left the room, I would jump on her desk and start tap-dancing. I was the girl who forced every unwilling classmate to join me in a Les Miserables medley, assigning them their designated parts to pass the 30-minute school bus ride.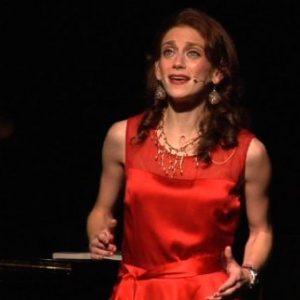 Amy starring in her one-woman musical, "Gutless and Grateful"
Even all the way up to high school, I was the theatre-girl. It was my identity, my passion, my livelihood. I sacrificed my social life and gave up many opportunities to immerse myself in what I loved.
I've always been warned not to put all of my eggs in one basket, but theatre ran through my veins – it was all I thought about, lived and dreamed. I'd write songs in my assignment notebook as I waited for the school bell to ring, then hop on the train to the next open call I'd read about in Backstage. When I fought with my brothers, I could only debate with them if we could do in the spirit of a musical theatre duet. They weren't so keen on that.

So what do you do when you've invested everything into your passion and you can't follow it anymore?
I've always thought about what would a world-concert pianist would do if he injured his hand, or a dancer breaking a leg…
…but sprains heal and wounds can eventually mend.
Dire circumstances felt much more long lasting; when at 18 I awoke from a coma. Although the medical staff—that suddenly became everyday faces—was more concerned about keeping my organs and me alive, I was still trying to grapple with one frightening new concern:
The point of my story is that
anything is possible -
and not just in the inspirational poster kind of sense...
But I didn't let that stop me.
(That's worse than watching paint dry, right)
very
slowly. To this day, it's a little weeker, but I've got many more months left in my and many more milimeters to grow - so it makes every day an adventure, and literally, an opportunity for growth!
Before I Go...
I did the impossible. But that's not an impossible task. Are you willing to believe that you can too?
You can learn more about
my show Gutless & Grateful HERE.
It's true!!!
Dream it. Do it. And tell me about it!
...