Hello!
Today I am playing around with the idea of a series.
This was one of my first attempts:
I'll spare you the story of how I used oil paint by accident and when Beechwood's curator came to see my work, the paint shmeared all over her gorgeous cashmere sweater...not the best first impression?
Then I created this series that makes me feel very at peace looking at it - I like the sense of movement in the piece - when I paint, I paint with my body, and always try to feel the "giving" and "receiving" ends of the piece -
where does the energy land?
completely
overdid everything. I'm still figuring out how to salvage this...
Well-intended...
Less is more, Amy, less is more!!!!!
I tried to stop myself early enough here as well...but the damage was already done.
My eye hurts...
So, let me ask all of you wonderful people in cyber-space? How do you know when to back away? When is enough enough? For art, life, everything?
I think I carry this trait everywhere.
(And inserting a gracious thank you to all my very patient Hampshire professors that currently have to deal with my total neglect for word economy and my thousand-page essays!)
But I do love the concept of a Diptych - how a continuous thought can be cut off and segmented, and still be appreciated in parts, yet takes on a grander meaning when fully assembled.
This is a gorgeous series on Etsy right now: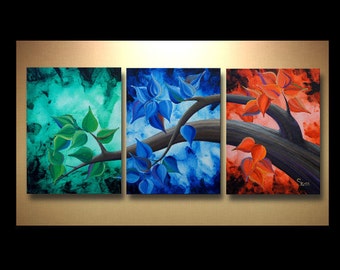 You can check out more of Shiela Gosselin's work here.
Brandon took a photo for me of a series in his office:
Which would make...
Then I tried again, with 8x10 canvases. I'm still not sure if this is working as of yet...
I like how the sheer fabric doesn't hide all the painting I did beforehand.
I also used the lace as a "pocket" - sticking photos, buttons, etc. into the faces.
I feel like the girl in this panel gets lost.
And drum roll...
When I'm unsure how to find my way through a painting, I just think giving and receiving.
Not quite it...so I tried again:
But...
They DO! :)
One of my favorite (art) examples is my seasons series. I created "End of Summer" quite appropriately towards the end of summer - when stuck in Yale Hospital for months.
End of Summer
Winter Meeting
You may have noticed I love bringing my trees to life in my work. That's because for me, trees seem like the most emotional and people-like elements of nature, who I often find myself confiding in or relating to. I always try to stay open to their messages and absorb their wise lessons on change, growth, groundedness and transition.
Title: TBA...(I literally just left the studio!)
And now...my studio needs a major clean-up job. But first, my hands!
"Art gallery? Who needs it? Look up at the swirling silver-lined clouds in the magnificent blue sky or at the silently blazing stars at midnight. How could indoor art be any more masterfully created than God's museum of nature?"